In a word, annihilation.
The undefeated Cain Velasquez tore through Brock Lesnar in a career-defining performance, as he captured the heavyweight championship in the UFC 121 "Lesnar versus Velasquez" main event Saturday at the Honda Center in Anaheim, Calif. The end came 4 minutes, 12 seconds into Round 1, as Velasquez reached the mountaintop just nine fights into his professional career.
"I trained for a five-round fight," Velasquez said. "I'm always ready for that. You can't expect an early stoppage."
Velasquez weathered an early attack from the hulking former World Wrestling Entertainment superstar, kept his composure and picked his spots with power, precision and resolve. Lesnar took down the challenger twice in the first two minutes, and Velasquez answered the challenge seamlessly on both occasions. Velasquez scored with his own takedown 2:48 into the period, took a dominant position in back of the champion and pummeled him with punches and hammerfists. From there, it was all downhill for Lesnar.
"We expected him to come out, go hard in and go for the takedown," Velasquez said. "We were ready for that. We worked on positions, on worst-case scenarios."
Lesnar twice returned to his feet, only to be met with more strikes from the American Kickboxing Academy standout. A two-punch combination dropped the champion near the cage, and Velasquez pounced. Lesnar fought valiantly to defend himself but ate too many punches, forcing Herb Dean to step in on his behalf. He rose to his feet beaten, battered and bloodied.
"I expected nothing less," Lesnar said. "I knew there was a great challenge in front of me. He's a great fighter. What can I say? He was better than me tonight."
Shields edges Kampmann in UFC debut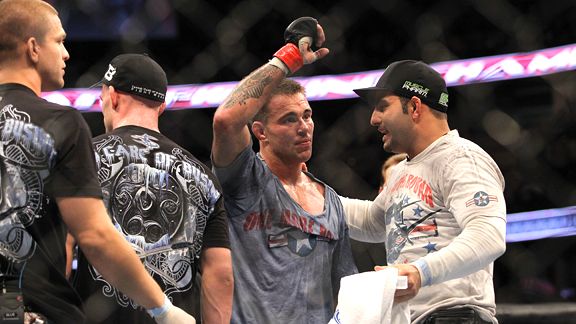 Ed Mulholland for ESPN.comJake Shields made his UFC debut a successful one by defeating Martin Kampmann.
Former Strikeforce middleweight champion Jake Shields out-grappled Martin Kampmann on the ground and survived his strikes on the feet, as he earned a split decision in his Octagon debut. Two of the three judges sided with Shields by 30-27 and 29-28 scores; a third saw it 29-28 for Kampmann.